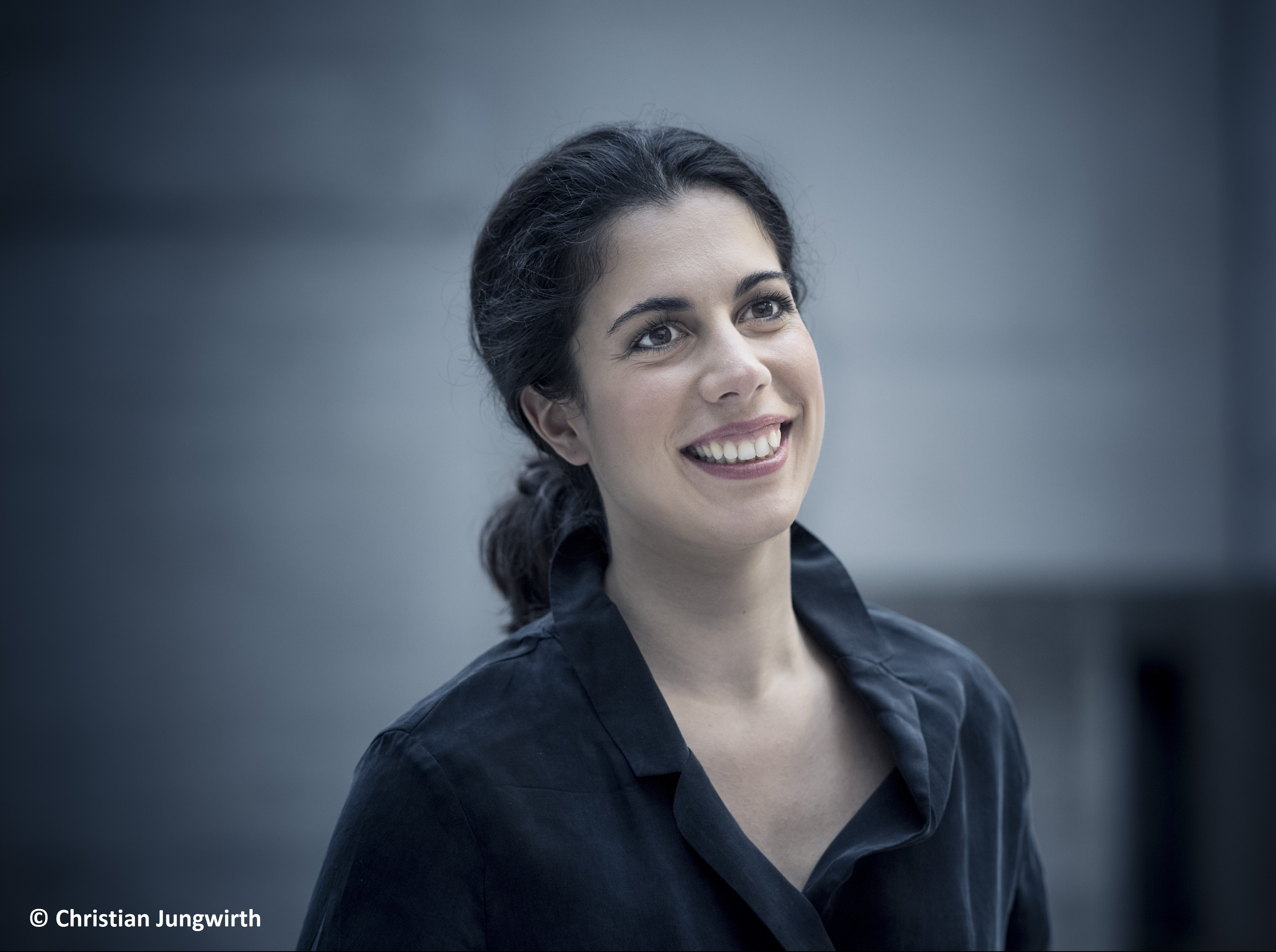 Marie Jacquot was a very talented tennis player. But at 16, she put the bat down and decided to become a conductor. Encounter with an exceptional artist.
When asked about the importance of striking technique, the conductor Simone Young once said: Every conductor works technically for a lifetime, "but you have good hands or you don't have them". The statement may sound banal, but it is true. The phenomenon of "good hands" can be studied by observing Marie Jacquot, who is only 30 years old.
The first Kapellmeister of the Deutsche Oper am Rhein and former Deputy General Music Director of the Mainfranken Theater Würzburg is Parisian, Viennese, Weimar native, Rhinelander by choice - and certainly one of the most imaginative young interpreters of these years. At the performance of Maurice Ravel's Tombeau de Couperin In December of last year in the State Philharmonic of Rhineland-Palatinate, barely visible gestural nuances were enough for her to change the sound of the orchestra for entire seconds. Hands can do this when they are as flexible as they are, as independently and spontaneously coordinated as the musical ideas of their owner. In her case, movements arise that have hardly been seen speaking in this way - so individual that no handwriting of any teacher or school shines through. Much of this conducting is completely self-contained, as if it were carried by a satisfied, stoic serenity or rather: a deep trust in the music.
In a concert like this last December, Marie Jacquot only needs a few moments to use her hands to form structures and gaps that banish the viewer's ear and gaze. None of this sounds revolutionary or like never heard of before. Jacquot's interpretations are more inventive than innovation-driven, they float, they arise autonomously, without the gesture of emancipating oneself from anything.
Apparently the conductor doesn't think much of rewriting classical music and its habits just because it is expected of her as a young interpreter. "Symphonies have been around for centuries," she says in a mixture of a French accent and a light Viennese dialect, "and even if you try to respect what the composer has written as much as possible, new paths are constantly emerging." She wants to serve the composition and interpret it in such a way "that the music corresponds as closely as possible to what a composer tried to give us" - as unclear as whether this will ever be achieved. So like a game where you never know whether you've won or lost? "I call it: dealing honestly and respectfully with the work and the music," says Jacquot. "I try not to let myself be carried away by the speed of our society, I want to have time to develop as a musician and as a person."
A conductor like her is not a ruler. Rather, it is an equal part of a process that it shapes with others - a process whose outcome is completely open. You have to be able to endure that. She can do it. This attitude was a big reason why Marie Jacquot gave up a successful career as a tennis player before studying conducting - she had made it to the French Open. "At some point I realized that I no longer wanted to play against others," she says. "Competing against each other and fighting is not my soul." From one day to the next, the then 16-year-old left the bat. "In my family, sport and music have always been important," says Jacquot. "As a child, my father had to choose one of the two, either clarinet or tennis. He obliged us children to choose something from both - a sport and an instrument." Like her two siblings, Jacquot began with piano and tennis and switched to the trombone at the age of ten, which she studied in Paris until her final exam.
Here, too, openness reigned in the end: She switched to Vienna and Weimar to study conducting without taking the final exam. Playing tennis and the trombone, these opposing experiences as an impulsive, dominant soloist on the court and as a fitting middle voice in the deep brass - they were probably formative for Jacquot's imaginative conducting style: the maximum independence of the hands and the anticipation that she trained in tennis On the other hand, the fine ear and the communicative virtuosity in creating a sound that one learns as an orchestral musician. The decision to finally switch to the orchestra, she says, was exactly that, namely a natural process, "like all the times before. My family was a bit surprised by all these spontaneous decisions, but they always supported me. Me hope they have become proud. "
Maybe conducting is just a stage for you? "I think it's possible that I'll do something else again," says Jacquot. "But as long as I enjoy my job, my calling, that won't happen."
No big concert has taken place in months. Apart from the existential fears that many musicians are exposed to, this not only meant difficulties for Jacquot: "I used the time at home to think about my ideas about sound and to ask myself questions about certain works, to read a lot and about them To experience the context of a composition, "she says. Above all, it was a productive time, "as a conductor and as a person". For the first time after years of traveling and playing concerts, she had the space to listen to her thoughts like to the individual voices of an orchestra. "I've thought a lot about myself and the direction I want to give my life," she says. And adds, as if speaking about one of her interpretations: "I have come up with a lot of ideas and formed opinions that have changed again and again in this unusual situation. And that can change even further."
On October 5th Marie Jacquot will conduct the concert of the series "Rendezvouz at half past 8" in Düsseldorf with the Düsseldorf Symphony Orchestra.  
On November 3rd, she will make her debut at the Bavarian State Opera with Miroslav Srnka's opera "South Pole".  
On December 6, she will conduct the German Symphony Orchestra Berlin in the Philharmonie.
"Marie Jaquot on the podium of the Duisburg Symphony Orchestra brings the luxiriant, partly Gounod's elegiac, always extremely melodious pre-impressionist music, wonderful to sound. She is a sensitive accompanist for the singers and drives the choir of the Deutsche Oper am Rhein (Gerhard Michalski) to an admirable, almost sacred sound."
Read the full article...
"Marie Jacquot: the young french conductor, new at the Deutsche Oper am Rhein, stages the Duisburg Philharmonic Orchestra with the finest French timbres, Gounod's musical journey through the night, perfectly complementary to the stage, the darkness of which is illuminated by targeted rays of light."
Read the full article...
"French conductor Marie Jacquot has audible experience, inspiration and routine at the age of twenty-eight. [...] At Messiaen's abyss, the DSO is bubbling with virtuosity, while the simple lines that surround it seem rather insubstantial in the violins. But that Marie Jacquot does not charge these melodies sentimentally is convincing as a musical approach. In Ravel's fairy tale suite 'Ma mère l'oye', too, the contrasts sparkle in the colorful lightheartedness of 'Le petit poucet' and the energetically successful splendor of the final 'Le jardin féerique'."
"Beginning with the overture, the scenery of Susanne Hiller delighted … and the philharmonic orchestra played animatedly under the baton of Marie Jacquot. […] And when Figaro appeares to shave the old man, the pleasure is complete, because the acting on stage is perfectly synchronized with the music. The latter shines with virtuosic musical effects. It caresses the hearts of the listeners and soars to tumultuous heights, only to unravel the tangle of passions with stunning ease and wit."
"Il barbiere di Siviglia", premiere on 10 March 2018, Mainfranken-Theater Würzburg