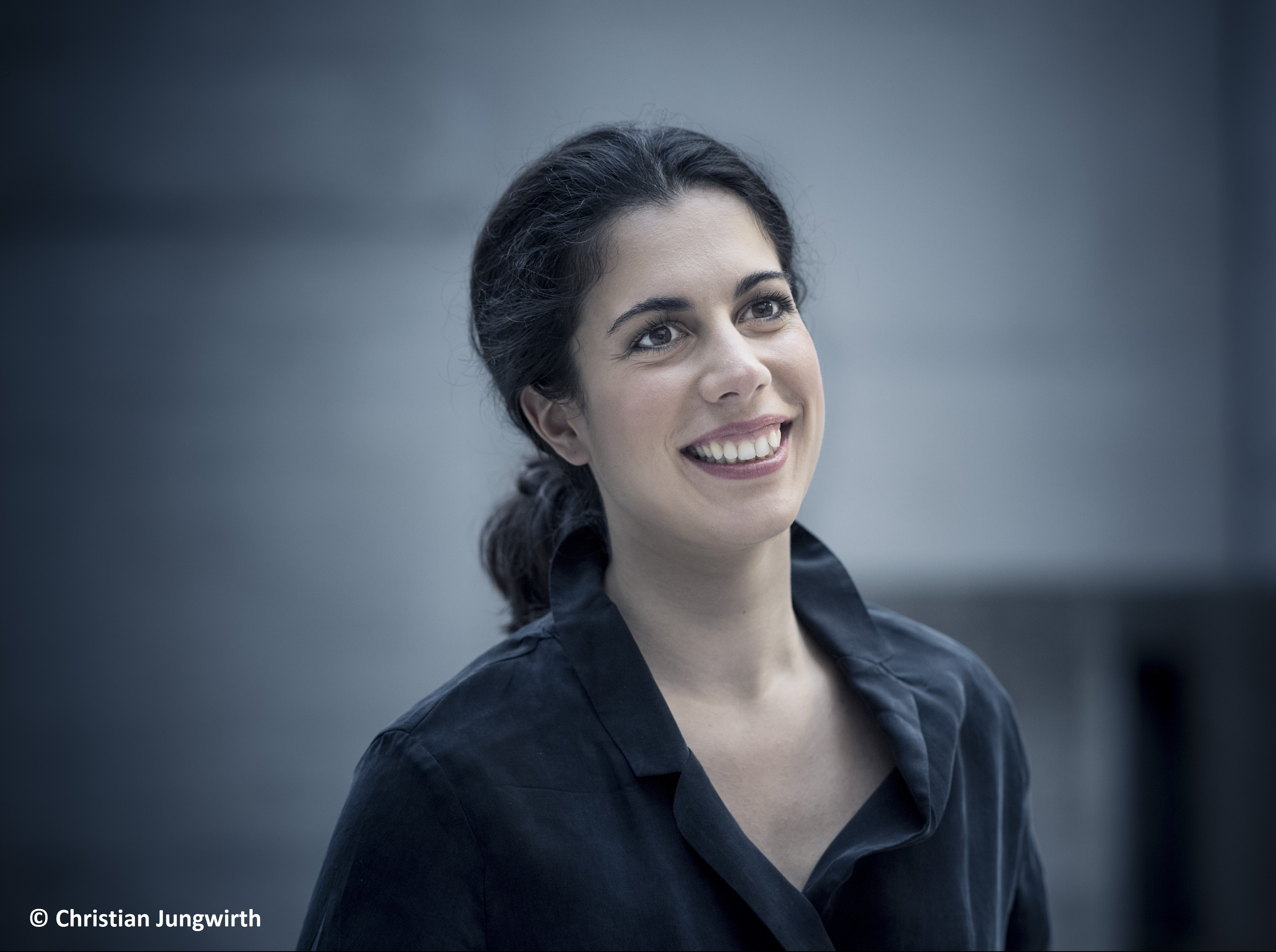 Music – Marie Jacquot, from the racket to the baton
She excelled at tennis but switched to music. At 30, this French woman is one of the famous "conductors" (she insists on it) of the moment.
Straightaway, firmly but cheerfully, she asserts : "I do not think of myself as a "female" conductor because it emphasizes the gender rather than the profession, even if I respect the denomination."
Let's forget about Inclusive writing, this is just Marie Jacquot, conductor. On appointing Marie as Kappellmeister, the Oper am Rhein of Düsseldorf-Duisbourg entered the exclusive club of musical ensembles conducted by a woman (4,3 % of the world orchestras, according to 2019 data) where she directs operas from Verdi or Gounod. She may be called away for concerts with the best musical ensembles such as the Karajan Academy (school linked to the Berlin Philharmony) or the Mulhouse symphonic orchestra.
At 30, on the eve of directing a concert at the Mulhouse "Filature", this young brown-haired woman who radiates with talent, has already got a whole life behind her, in Chartres, her hometown, in times where she was not much of a music lover : "In the car, when my father tuned on Radio Classique, I would change for Fun Radio or Skyrock, she remembers. Classical music was not my cup of tea." Those trips, with musical feud in the background, used to drive her to championship trainings. As a teenager, Marie Jacquot was a tennis player, one of the best of her generation. "I was sponsored and played at Roland-Garros"… Then, at the age of 15, she decided to stop tennis for good. "It was not fit for me. In the meantime, I had discovered my instrument, the trombone."
Collective
Inspired by an outstanding teacher, Roberto Gatto, she headed towards orchestra conduction : "I was thrilled by the collective, the strong feeling of being together." The discovery of German romantic music, too : intoxicated with Brahms and Mendelssohn, Marie Jacquot naturally finds her way to Vienna for her studies. When, for an exam, she is asked to sing La Marseillaise, she rather prefers to sing a piece from Schumann : "I would have loved to sing La Marseillaise but I didn't know all the words." Her first important contract is in Munich where she assists the famous Russian chef Kirill Petrenko. Nowadays, she lives and thinks in German, so that, she sometimes searches for words in her mother tongue.
Endurance
You can guess she was a tennis-woman by the way she uses her body language at the stand, gracious as well as dynamic. "Music shares this with sport : you play it" says Marie Jacquot remembering the benefit she gained on the courts in coordination and endurance : "I gained roundness and tonus. When you conduct an opera, you need to completely devote yourself for two or three hours, it's important to hold on." Long ago, she could not find much interest in those "stories that end badly" but today she savors the fullness of the opera : "It's the essence of the job and a wonderful source of joy when you coordinate the scene, the pit, the technicians… There is no routine, each performance is different."
Until the reopening of the concerts to the public, the concert of December 18th 2020 with the Wiener Symphoniker (Dukas, Ravel, Bach) is online on : www.youtube.com
The concert of February 16th with the Karajan Academy (Eisler, Weill) is broadcasted on www.digitalconcerthall.com
The concert of March 5th with the Mulhouse symphonic orchestra (Beethoven, Mozart, Rachmaninov) is available via www.lafilature.org
When she was studying orchestra conducting, Marie used to watch videos of the most famous conductors on Youtube in order to learn from them : "Bernstein, Ozawa, Kleiber, Karajan, Abbado, Myung-Whun Chung… The list is long." Not a single woman in this pantheon : "However, I never said to myself : it's a man's job. I never needed to see a female conductor before I could project myself in this way. Basically, I was asked the question before I even asked myself…" Trained in Vienna, working in Germany, Marie Jacquot witnessed the controversy about the Vienna Philarmonic Orchestra raised on a tweet by Ibrahim Maalouf about the New Year concert. "I support the desire for diversity and parity when they are based on competence and not on mere quotas, she explains. My place is quality." This place, from which she speaks today, with a rightful enthusiasm.
"The Düsseldorf Symphony Orchestra sits on the stage around Marie Jacquot, whom they know very well as the Kapellmeisterin of the Deutsche Oper am Rhein. Jacquot shines in a good mood and conducts so unpretentiously instructive that one wonders how gallant and colorful Britten's last work sounds in the empty hall."
"Christian Ehrings asks the conductor for an interview. Jacquot shines as friendly as she does at the podium, talks about her past tennis career (she was once number five in France) and has to smile away from Ehrings self-confident lack of education about opera"
Rp-online
"Distressing scenes and fates played out in the music, Marie Jacquot motivated the orchestra to use strong accents and expressive dynamics, pressed the tempo, modeled her desired sound with clear gestures."
Bachtrack.com
"Jacquot let the feeling of the "new objectivity" sound out of the 1st and 3rd movements, which were played extremely succinctly and with a lot of details by the 35 musicians of this academy and demonstrated creative intelligence in the solos as in the tutti. Carefully, without voices covering each other and with a good pulse for clear melody lines, the symphony did not turn into an adrenaline work, the tightly interwoven string cantilenas of the Largo retained their bitter charm in retrospective melancholy. Masterful!"
Seenandheard.com
"The music decides the success of the evening. And that is in very good hands with Marie Jacquot. She has developed an outstanding feeling for the music, which she says she will conduct for the first time at the festival. Sometimes things get straight to the point if it serves the cause. In a break interview with the experienced cultural manager and editor-in-chief of the Berlin Phil. magazine 128, Oliver Hilmes, who has to read surprisingly prepared questions from the sheet and refer to the influences of other musicians on the composers of the evening, the conductor describes the impressions the music conveys grippingly and accurately. It's realy enjoyable, especially when you feel confirmed in your own feelings."
O-ton.online
Marie Jacquot was a very talented tennis player. But at 16, she put the bat down and decided to become a conductor. Encounter with an exceptional artist.
When asked about the importance of striking technique, the conductor Simone Young once said: Every conductor works technically for a lifetime, "but you have good hands or you don't have them". The statement may sound banal, but it is true. The phenomenon of "good hands" can be studied by observing Marie Jacquot, who is only 30 years old.
The first Kapellmeister of the Deutsche Oper am Rhein and former Deputy General Music Director of the Mainfranken Theater Würzburg is Parisian, Viennese, Weimar native, Rhinelander by choice - and certainly one of the most imaginative young interpreters of these years. At the performance of Maurice Ravel's Tombeau de Couperin In December of last year in the State Philharmonic of Rhineland-Palatinate, barely visible gestural nuances were enough for her to change the sound of the orchestra for entire seconds. Hands can do this when they are as flexible as they are, as independently and spontaneously coordinated as the musical ideas of their owner. In her case, movements arise that have hardly been seen speaking in this way - so individual that no handwriting of any teacher or school shines through. Much of this conducting is completely self-contained, as if it were carried by a satisfied, stoic serenity or rather: a deep trust in the music.
In a concert like this last December, Marie Jacquot only needs a few moments to use her hands to form structures and gaps that banish the viewer's ear and gaze. None of this sounds revolutionary or like never heard of before. Jacquot's interpretations are more inventive than innovation-driven, they float, they arise autonomously, without the gesture of emancipating oneself from anything.
Apparently the conductor doesn't think much of rewriting classical music and its habits just because it is expected of her as a young interpreter. "Symphonies have been around for centuries," she says in a mixture of a French accent and a light Viennese dialect, "and even if you try to respect what the composer has written as much as possible, new paths are constantly emerging." She wants to serve the composition and interpret it in such a way "that the music corresponds as closely as possible to what a composer tried to give us" - as unclear as whether this will ever be achieved. So like a game where you never know whether you've won or lost? "I call it: dealing honestly and respectfully with the work and the music," says Jacquot. "I try not to let myself be carried away by the speed of our society, I want to have time to develop as a musician and as a person."
A conductor like her is not a ruler. Rather, it is an equal part of a process that it shapes with others - a process whose outcome is completely open. You have to be able to endure that. She can do it. This attitude was a big reason why Marie Jacquot gave up a successful career as a tennis player before studying conducting - she had made it to the French Open. "At some point I realized that I no longer wanted to play against others," she says. "Competing against each other and fighting is not my soul." From one day to the next, the then 16-year-old left the bat. "In my family, sport and music have always been important," says Jacquot. "As a child, my father had to choose one of the two, either clarinet or tennis. He obliged us children to choose something from both - a sport and an instrument." Like her two siblings, Jacquot began with piano and tennis and switched to the trombone at the age of ten, which she studied in Paris until her final exam.
Here, too, openness reigned in the end: She switched to Vienna and Weimar to study conducting without taking the final exam. Playing tennis and the trombone, these opposing experiences as an impulsive, dominant soloist on the court and as a fitting middle voice in the deep brass - they were probably formative for Jacquot's imaginative conducting style: the maximum independence of the hands and the anticipation that she trained in tennis On the other hand, the fine ear and the communicative virtuosity in creating a sound that one learns as an orchestral musician. The decision to finally switch to the orchestra, she says, was exactly that, namely a natural process, "like all the times before. My family was a bit surprised by all these spontaneous decisions, but they always supported me. Me hope they have become proud. "
Maybe conducting is just a stage for you? "I think it's possible that I'll do something else again," says Jacquot. "But as long as I enjoy my job, my calling, that won't happen."
No big concert has taken place in months. Apart from the existential fears that many musicians are exposed to, this not only meant difficulties for Jacquot: "I used the time at home to think about my ideas about sound and to ask myself questions about certain works, to read a lot and about them To experience the context of a composition, "she says. Above all, it was a productive time, "as a conductor and as a person". For the first time after years of traveling and playing concerts, she had the space to listen to her thoughts like to the individual voices of an orchestra. "I've thought a lot about myself and the direction I want to give my life," she says. And adds, as if speaking about one of her interpretations: "I have come up with a lot of ideas and formed opinions that have changed again and again in this unusual situation. And that can change even further."
On October 5th Marie Jacquot will conduct the concert of the series "Rendezvouz at half past 8" in Düsseldorf with the Düsseldorf Symphony Orchestra.  
On November 3rd, she will make her debut at the Bavarian State Opera with Miroslav Srnka's opera "South Pole".  
On December 6, she will conduct the German Symphony Orchestra Berlin in the Philharmonie.
"French conductor Marie Jacquot has audible experience, inspiration and routine at the age of twenty-eight. [...] At Messiaen's abyss, the DSO is bubbling with virtuosity, while the simple lines that surround it seem rather insubstantial in the violins. But that Marie Jacquot does not charge these melodies sentimentally is convincing as a musical approach. In Ravel's fairy tale suite 'Ma mère l'oye', too, the contrasts sparkle in the colorful lightheartedness of 'Le petit poucet' and the energetically successful splendor of the final 'Le jardin féerique'."